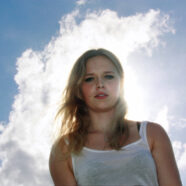 My name is Mia Karlsson and I'm born in a small city in the middle of Sweden. I have trained karate since I was 7 years old, and  today I'm 18, so I have been training for almost 11 years now.
My life as Mia is basically "my life as a Karateka". From the beginning I was training two times a week at my club, Köpings Karate Club which was a Wado Ryu Club (today it is a Wado Kai club). Two years later, when I was 9, I decided to try to compete in Kata at a smaller competition. This was my first competition ever but it went very well, I ended up with a second place. From that moment I knew that this was "my thing", I more or less fell in love with my sport.
When I was 10 years old me and my father saw that there was going to be a "try out" for the Wado Ryu national team in a city close to ours. Unfortenly there was an age limit for the try out, 12 years old. But me and my father went there just for fun, to see how everything worked, to watch people perform their best. At the try out I was so exited and told my father that "When I turn 12, I will try out for the Wado Ryu national team, and I'm gonna get selected for the Wado Ryu European Championship". After that my father and my younger brother trained me so I could reach my goal. Once I was 12, I went to the try out, and this time not just to watch. I was there to get selected to the Europeans. After a hard try out, a man named Luan Krasniqi who is a great karate athlete, was going to do the selection and after a while we knew I was one of the selected. I had reached my goal and during my travel home, I told my dad that my next goal was going to be a gold medalist at the Wado Ryu European Championship.
A few months later, the europeans took place in a small city outside Amsterdam. I did my very best at the competition and it was enough to reach my goal, I took the gold. The following year the europeans took place in Paris and just like in Holland, I took the gold. 2008 I was at my first Wado Ryu World Championship in which I had been selected to represent Sweden. After the final we knew I was the winner and that gold felt so good for me. I was now a World Champion in Wado Ryu. The year after the worlds, I became selected to the europeans in Cyprus. Like the previous europeans I had been at, I took the gold again.
2009 was an important year for me. I started to extend my knowledge by training a different style, Shito Ryu. In february I became selected for the All Style national team which was a big step for me in my career. We had in average four camps a year which took place at different places around Sweden. I made my first competition for the national team at the Finnish Open where Ky Boun Tang, the national team coach coached me. We made a great job and I took the third place. The following year, I was once again selected to the National team and this year I was selected to more competitions. Among other things I was honored to represent Sweden at the Nordic Championship which took place in Estonia. I made my best and I took the gold.
In the late fall I knew I was once again honored to represent Sweden, but this time at the European Championships (which took place in the beginning of february 2011), which was a big step for me. My opponents were very good, but after a good upload, a night with a lot of sleep and a focused mind, I took the third place. Before my medal it had been 19 years since Sweden took a Kata medal and if we look at Swedens history, we have never taken a kata junior medal at a European Championships for all styles before so this was a wonderful, meaningful and historical medal for me. "History will be kind to me for I intend to write it" – Winston Churchill. This european medal is the beginning of something big.
Azem Baracovic and our General Manager, Birgitta Lindblom told us athletes that if you take a medal at the europeans you will get a ticket to the worlds later this year in Malaysia. It's expensive to go all the way to Malaysia and that's why we needed to have some directions on who's going. Like I wrote before, I was the only one who took a medal at the europeans so I was the only one to get a ticket to the worlds. Me and my coach, Johnny Karlsson, trained very hard at home and Azem Baracovic helped me at our national team camps, I started to feel ready for the Worlds. At the Worlds it went very well. I came to a quarter final where I lost with 3-2, unfortunately.
In 2012 I was once again honored to represent Sweden at the European Championships in Azerbaijan. This time I went without loosing all the way to the match of "who is going to the final" (semifinal) where I lost against the girl who became the European Champion. After that I had my bronze match where I lost again against the last years European Champion, so unfortenly this time I did not take a medal but I got a lot of experience and I took myself a fifth place.
During the summer 2011 and 2012 I moved in to an apartment in the same town as my trainer, Johnny Karlsson, lives in. I did it so we could train more often together and with a lot more intensity. Sometimes it's pretty boring to live by yourself but it's totally worth it, I love my training and that is my life. When school started in the fall I had to move back to my hometown, but that doesn't change so much. I still have my apartment so I can go there whenever I want and train as much as my body can take. I took my driver license in the beginning of the summer and that has helped me a lot with my trainings. I could easily go to a fantastic gym in Karlskoga, (a town very close to my town, Degerfors) Träningslagret, and I could be more flexible and actually train even more.
This is my life as Mia. It's not simple but nothing in life is. This is what I have chosen. This is who I am.