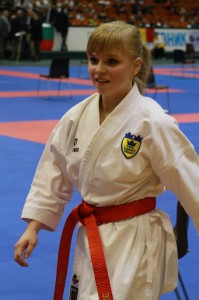 When I had won three Wado Ryu Europeans and the Worlds once I wanted to extend my knowledge. By training a different and a new style (Shitoryu) I started to achive what I was after. I was trying out for the All Style national team for the very first time 2009, and I became one of the selected. Our national team coach was back then Ky Boun Tang with assistans of Azem Baracovic. Today I'm still a member of the national team, led by Azem.
I represented the national team for the first time at the Finnish Open 2009 where I actually took a bronze. Not so bad for being the first time. I achieved my first "smaller" goal with the national team at the nordic championship 2010, which was also was my first nordic championship, and I have been an unbeaten nordic champion since then (2010, 2011,2012).
In the late fall 2010 I was once again honored to represent Sweden, but this time at the European Championships (february 2011), which was a big step for me. My opponents were very good, but after a good upload, a night with a lot of sleep and a focused mind, I took the third place. Before my medal it had been 19 years since Sweden took a Kata medal and if we look at Swedens history, we have never taken a kata junior medal at a European Championships for all styles before, so this was a wonderful, meaningful and historical medal for me."History will be kind to me for I intend to write it" said by Winston Churchill. This european medal is the beginning of something big.
Azem Baracovic and our General Manager told us athletes that if you take a medal at the europeans you will get a ticket to the worlds later this year in Malaysia. It's expensive to go all the way to Malaysia and that's why we needed to have some directions on who was going. Like I wrote before, I was the only one who took a medal at the europeans so I was the only one to get a ticket to the worlds. Me and my coach, Johnny Karlsson, trained very hard at home and Azem Baracovic helped me at our national team camps, I started to feel ready for the Worlds. At the Worlds it went very well. I came to a quarter final where I lost with 3-2, unfortenly.
In 2012 I was once again honored to represent Sweden at the European Championships in Azerbaijan. This time I went without loosing all the way to the match of "who is going to the final" (semifinal) where I lost against the girl who became the European Champion. After that I had my bronze match where I lost again against the last years European Champion, so unfortenly this time I did not take a medal but I got a lot of experience and I took a fifth place.
This is only the beginning of my career and I will continue to fight for what I want. A quote which I found really good is "Winners aren't those who never fail, it's those who never quit".